MUCH BETTER THAN CHOCOLATE; learn how to orgasm during sex
$19.97
Finally! Learn how to have a satisfying sex life!
Description
Research states that 70% – 80% of women don't reach orgasm during sexual intercourse. Learn how!
I'm trying to change those figures. I'd like to see 80% of women orgasm during sex! Introducing Much Better Than Chocolate; A woman's guide to achieving orgasm through intercourse'. Although I wrote this guide for women, the information it holds is equally important for both partners. Learning how to orgasm during sex is a collaborative effort but an easy and enjoyable one. There are things in Much Better Than Chocolate; A woman's guide for achieving intercourse through intercourse that both partners must do for a woman to achieve climax during intercourse.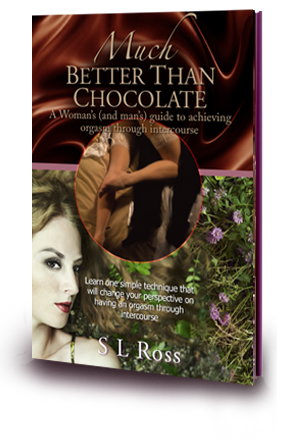 A 1/2 hour read is all you need.
Learn how to orgasm during sex. TODAY! The information is not shrouded in a mountain of unnecessary and repetitive information – it's strictly mechanics! I don't need to tell you to light the candles and make the room sexy. It's a concise how-to guide, specific in it's goal and takes mere minutes to read. If you're comfortable enough to achieve an orgasm with your partner doing all the work, but have yet to climax during intercourse (with no help from fingers or toys) then this book is for you.
For women having a hard time climaxing with their partners, click here for 'Much Better Than Chocolate FOR TWO'. Ladies, if you haven't or aren't sure you've ever even had an orgasm click here for 'Much Better Than Chocolate FOR ONE'.
MY STORY: I am not a therapist, nor a doctor. I am a woman who when I first had intercourse, or should I say, for the first 6 years of having intercourse, never had an orgasm. I could in other ways but not through sexual intercourse alone. I went to find books on the subject but they were each at least 200 pages, and wading through them still didn't net me a solid answer nor solve my problem. Then, one day I did some things differently, and voila; I climaxed during intercourse without any help from extra stimulation via my own hand. I was thrilled. And since then, unless my partner climaxes within a minute or two, I can acheive an orgasm every time I have sex. The info in the book is what I discovered, and it's simple and to the point. It's just a few basic things that I needed to pay attention to and anybody can do it. I hope, if you're one of these women, that you and your partner will download it, read through it and work on it ASAP because if you have never climaxed this way, in my opinion, you've been missing out. Write me and let me know about your experiences.