View cart
"MUCH BETTER THAN CHOCOLATE; learn how to orgasm during sex" has been added to your cart.
MUCH BETTER THAN CHOCOLATE; Learn To Orgasm
$9.97
This is it ladies. Achieve orgasm. Your world will never be the same!
SKU:

MBTC-003-OOO-2008
Category: Self Help Guides
Tags: better sex, blocked orgasm, can't orgasm, climax, climax help, how to orgasm, let your partner make you cum, masturbation, orgasm aid, orgasm during sex, orgasm help, orgasm on your own, self pleasure, sex play, sexual aids, sexual frustration, sexual fulfillment, sexual health, sexual satisfaction, sexually satisfied, women's sexual health
Description
Learn to orgasm.
Introducing Much Better Than Chocolate; For One. The percentages of women who have never had an orgasm are lower – somewhere around 5%. They say that it's not because most can't, it's that they don't know how.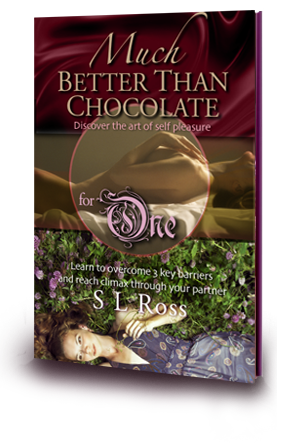 Like the other two books, it's right to the mechanics meaning it takes about 20 minutes to read. This book is for you if you've never had the guts to try to make yourself orgasm, or have tried and quit because it feels silly and it doesn't work anyway.
Having an orgasm is the most natural and best thing your body does! Nature gave us the gift, we should be thankful for it and enjoy all that it has to offer. Download 'Much Better Than Chocolate FOR ONE' and find out what you need to do in order to experience one of life's greatest 'pleasures'.
When I wrote my first book, Much Better than Chocolate – A Woman's Guide to Achieving an Orgasm Through Intercourse, with no other aid than just the act itself – I thought that I would be finished.  However, soon after its release, I received numerous emails asking about how to have an orgasm with a partner ….period! As we women are well aware, there are a lot of women who don't climax with their partners at all, but they can climax when they are alone. For that reason, I wrote 'Much Better than Chocolate – For Two'.
As well, I thought I'd tackle the subject of masturbation since a small portion of women are not able to bring themselves to climax. This book offers straight forward instructions, tips and technical info in the same way that I wrote my first book; straight to the point with no filler. Again, If you're finding it difficult or feeling frustrated that you aren't climaxing at all, you shouldn't have to read an encyclopedia or an entire book to figure it out.
Alternatively, if you have any questions you can ask them here:
questions@climaxhelp.com