MUCH BETTER THAN CHOCOLATE; Orgasm with your partner
$19.97
Finally! Relax and let your partner bring you to orgasm!
Description
Orgasm with your partner.
Introducing Much Better Than Chocolate; For Two. I was not able to orgasm with my partner and it was one of the most frustrating times in my life. I didn't climax with my first boyfriend at all and we dated for over a year. Then with my second boyfriend, after about a year of intimacy I finally had an orgasm (with him). The barrier was broken and there was no turning back. I now have one every time with my partner. You can too. You can let go and overcome the barriers that block your ability to orgasm with your partner.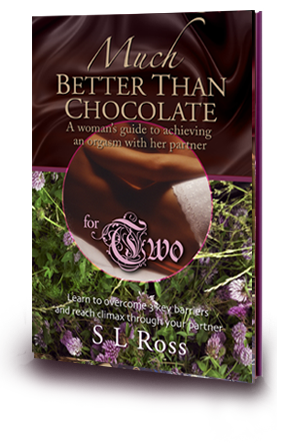 This guide gives technique (not only physically) but talks about how to avoid those thoughts that get in the way inhibit us. Thoughts of guilt and shame which go a long way to thwarting our ability to achieve climax and orgasm with our partner's help. If you already achieve orgasm with your partner, but not when you're having sex, than 'Much Better than Chocolate; A woman's guide to intercourse orgasm' is for you.
Like the other two books, it's straight to the point and is a quick read. This book is for you if you can orgasm on your own, but have trouble climaxing via the stimulation given by your partner. Download 'Much Better Than Chocolate FOR TWO' and find out what you need to do in order to experience one of life's greatest 'pleasures' and reach higher states of intimacy with your partner.
If you are wondering what the heck an orgasm is anyway, cause you know you haven't or you're not sure that you have ever had one, then 'Much Better Than Chocolate; FOR ONE' is the book for you.
Alternatively, if you have any questions you can ask them here:
shara@climaxhelp.com
All rights reserved. No part of this website may be reproduced, or transmitted by any means, electronic, mechanical, photocopying, recording, or otherwise, without written permission from the author. The contents of this website are proprietary and copyrighted. Downloading of any image in this site is strictly prohibited. All rights are reserved by climaxhelp.com.
By entering the site you agree to these terms and conditions. ©S.L Ross 2006-2014