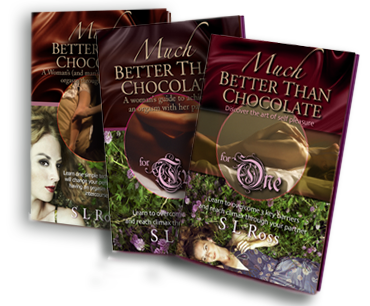 Testimonials for Much Better Than Chocolate; orgasm guides.
Dear Reader,
I know most people don't believe the testimonials that they read, thinking that they are staged and fake. For what it's worth, these are all 100% legit. Thanks for taking a moment to read them.
S. Ross, Author
Wow, this book really offered a neat perspective on the reasons why many woman are not having an orgasm and how to really utilize the information to pleasure women I have intercourse with. It says it's a woman's guide, but a lot of men would benefit from it not only from an understanding perspective but really to use the information as power to pleasure your partner. Thanks so much.
I am in my late 30's. Never had an orgasm during sexual intercourse. I wasn't even looking for the answers ….had basically given up. Thanks to your book I had my first ever orgasm through sex. Now I'm addicted…
"Just a note of thanks for your courage in writing the "Much Better Than Chocolate" series of books and for sharing your experience and knowledge about a topic that is considered by many to be something private or taboo. After years (in my mid 40's now) of experiences I have found each of the partners I have been intimate with have shared one thing in common. They were unable to have an orgasm during intercourse alone without additional stimulation from a hand, toy or oral stimulation. As a male I must say possessing the skills and having the knowledge outlined in your books certainly entrenches a silent confidence in knowing I am able to completely satisfy my partner. Your books provided the secret recipe that unlocks the door and breaks the barriers in an almost step by step manner. The description of the physical mechanics was direct and easy to follow and your direction regarding mental blockages and how to deal with them were a big help in allowing our sex life to be truly fulfilling!"
Like you, I have read many books and articles on this issue. I have to say that your words seem to be the most focused, relevant, and encouraging of anything I've read. You take the matter seriously and really help me to believe that this is worth trying for and that I can do this! By the way – I really like the serious, focused approach you take toward this issue. I agree that this is a really important goal worth striving for and most women can achieve it and that everyone (our partners, porn, the media) should take this goal more seriously as well. Like you mention, so much porn shows women in poses where orgasms will be impossible. It is shocking and outrageous to think that we accept that 70% of women out there don't orgasm during intercourse.
"I bought a copy and read through all of the guide. I think it's great! I would totally agree with the method that you describe. It works for me! I always use fantasies when I am alone and this section is what I personally found most interesting. I have at times fantasized about scenerios and have also felt guilty and wrong about it. It was reassuring to hear that I was not a alone in doing that. Also, I found it really interesting what you said about the circumstances of your first sexual encounter. I often fantasize about a situation that occurred when I was in elementary school involving kids going into a closet for a period of time. I never did get to go into the closet with anyone, but now use that as part of my fantasies—very interesting! So thanks for reassuring me that I'm not a freak!! LOL"